This week in the studio I was inspired to paint. I chose to paint my two sisters eating food while looking at me because I wanted to make a painting that was about the female gaze as well as our relationship with food. As I reflected on last weeks work I realized that oil painting was the last medium for me to explore, before settling on a set project that I wanted to invest all my time into. These are the in progress photos of the oil painting.
As I was painting I was thinking about the whole scenario of the painting. The place, the people, and the way I was using the piece to communicate what I need. The female gaze often has interested me. An artist who I refer to when talking about how women are looked at and how women look at the world is Carrie Mae Weems and her kitchen table series.
Carrie Mae Weems, Kitchen Table Series
The thing that I enjoy most about this piece is the direct eye contact she is making with the viewer.
There two directions where I could see this piece going. One is to increase the scale so that the viewer had more to take in. While doing that I would be echoing Carrie Mae Weems size and scale. I would then work on different pieces to create a series of paintings that would have the female looking directly at the viewer. The second goes back to David Hockney and his collage work.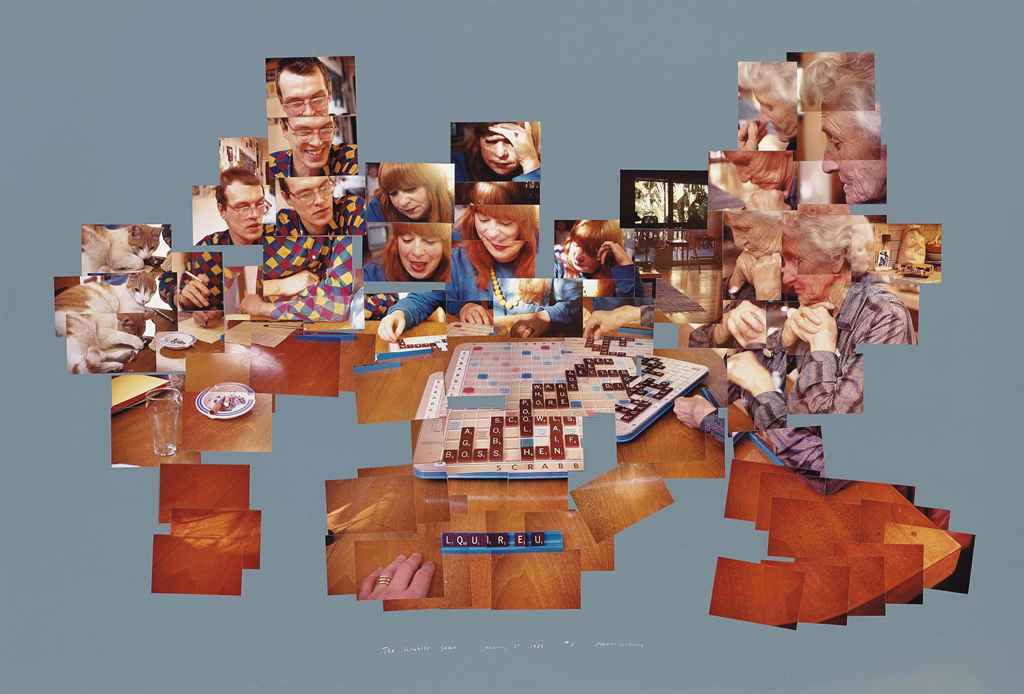 David Hockney, The scrabble game
The movement and the content that is addressed here something that I strive for in my work.
I would love to have models sit and eat while looking at me and take photos. Then use those photos to create a installation of smaller paintings that worked together to tell a story and force the viewer to ask questions about women and the relationship they have with food.
Reading Art and Fear
Art and fear was a wonderful read. It truly addressed a ton of the fears I have as an artist. My favorite thing that the readings said was art is made by ordinary people. This resonated with me because it peels away the magic of fantastic artists. I also really enjoyed the line that said "Making art provides uncomfortably accurate feedback about the gap that inevitably exists between what you intended to do, and what you did." There could not be a more true statement. This is the struggle that we learn to identify as students because often we get frustrated that something does not look a certain way, but in reality it just looks the way we made it to be. The more we learn to use to the materials that we choose and the more we know our ability of what we can expect it to look like the less frustration we can have with the art making process.